---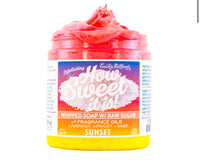 8oz | This luscious, whipped body soap has raw cane sugar for gentle exfoliation and added skin conditioning and balance. Sunset - is lavender Sage fragrance begins with top notes of French lavender, lime, sage, and fern leaves and ends with musk tones. Apply to wet skin using circular motions and then rinse with warm water.
Ingredients: Glycerin, Aqua, Sorbitol, Sodium cocoyl / lauryl isethionate,
Disodium lauryl sulfosuccinate salt, Phenoxyethanol, Tetrasodium EDTA, Raw cane sugar, FDA certified colorant, Pure fragrance.