---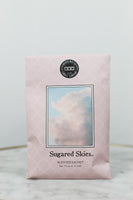 Fragrance: Sugared skies
Fragrance Family: Oriental & Spice
Fragrance Description: no need to sugarcoat it, sugared skies is totally dreamy and sweet. With notes or bergamot, rose , coconut and vanilla, this one is sure to make you feel like you are floating on cloud nine. 
Use and Care:
Place your sachet in a closet, under the seat in your car, under your sink, or anywhere else you'd like a touch of fragrance
Sachets should maintain fragrance for up to 9 months from manufacture date
There are certain surfaces sachets should not come in contact with, take care to read the warning on the back of the envelope before using your sachet
Use In: Gift Baskets, Closets, Cars, Drawers, & More!